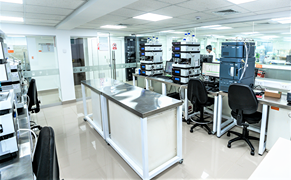 The Benefits of Using an Automatic Changeover Valve for Laboratory Gases
July 21st, 2022
Industrial, academic, and private laboratories use nitrogen, oxygen, and other gases to complete an extensive range of applications. For delicate processes to succeed, gas flow must be steady, consistent, and constant. Interruptions caused by cylinders depleting during off-hours or changing a gas canister manually can have a negative impact on your operation's outcome. Luckily, there is an easy solution to help you avoid these delays and disturbances: automatic gas cylinder switchovers for laboratory equipment.
What is an Automatic Gas Cylinder Switchover Valve?
As the name implies, automatic gas cylinder switchover valves automatically switch from primary cylinders to secondary cylinders when the primary cylinders have been emptied. This allows your nitrogen, oxygen, or other laboratory gas delivery systems to run without outages, disruptions, or delays caused by manually changing depleted cylinders. They are hands-free, low risk, and cost-effective options for any laboratory.
How Automatic Gas Cylinder Switchovers Enhance Laboratory Operations
Automatic gas cylinder switchover valves can take your laboratory supplies, resources, and processes to a new level. While they are particularly suited to smaller scale facilities, they can benefit laboratories performing a wide range of applications, including, but not limited to:
Chromatography (GC and LC-MS)
Spectroscopy
ELSD and sample preparation
Equipment and instrument calibration
And many others
Consistently Supplied Gases for Laboratory Equipment
Inconsistent nitrogen, oxygen, or other laboratory gas levels can significantly impact the final output of your laboratory processes and procedures. Automatic gas cylinder switchover valves provide consistent levels of gas and ensure your applications run without costly downtime or unplanned disturbances.
Lower Risk for Workers While Reducing Costs
Manually changing gas cylinders creates unnecessary risk for workers. As many common laboratory gases are toxic in concentrated quantities, exposure can have critical consequences for your employees. Automatic cylinder switchovers for laboratory equipment significantly lowers this risk. As automatic changeover valves require no supervision, you can minimize labor costs while using resources safely and with greater efficiently.
Versatile Designs to Match Your Laboratory Supplies & Equipment
Automatic gas cylinder switchover valves are endlessly configurable to match your laboratory's needs. Automatic changeover valves can support as many cylinders as required by your application, come with various hose lengths and sizes, and deliver consistent amounts of oxygen, nitrogen, or other laboratory gases.
Enhance Your Laboratory Gas Delivery System with an Automatic Changeover Valve
The Eliminator automatic cylinder switchover from Assurance Valve provides the continuous flow your laboratory gas delivery system needs to function smoothly and without interruption. Easy to install and straightforward to operate, the Eliminator uses all oxygen, nitrogen, or other laboratory gas in the cylinder, resulting in cost-effective functionality and no loss of product. Other features include:
Unlimited configurations to match your specifications
20-year warranty to guarantee excellent performance
Continuous operations require no employee supervision
Non-electric to avoid system malfunctions or service calls
Contact Assurance Valve Today
Contact us
today to learn more about how the Eliminator automatic gas cylinder switchover valve can improve the workflow and processes in your laboratory gas delivery system.
Request a quote
to quickly receive pricing information and timeline estimates specific to your application. A highly trained member of our team will respond shortly.