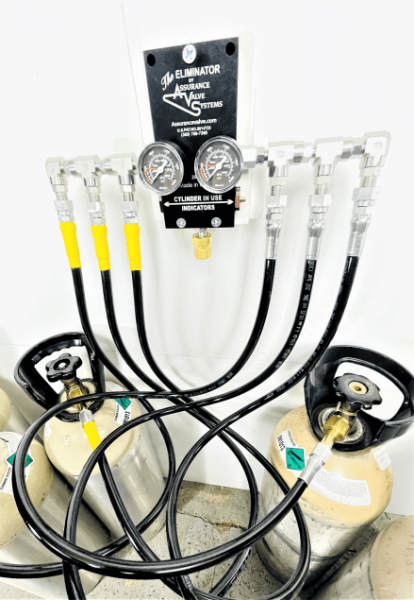 The Differences Between Electric & Non-Electric Changeover Systems
August 18th, 2022
With so many configurations available for gas cylinder changeover systems in your CO2 or nitrogen setup, it can be challenging to determine which variety is best suited to your specific application. While we can all agree that automatic changeover systems outperform manual switchover valves in most scenarios, the differences between electric and non-electric changeover valves are sometimes less clear.
Who Uses Gas Changeover Valves?
An extensive range of businesses, applications, and industries require continuous flows of CO2, nitrogen, and other gases to achieve their desired outcomes. Examples include:
No matter your industry, it is essential that your gas changeover valve provides consistent levels of gas to keep critical and possibly delicate processes continuing as planned. Any disruption, power outage, or system failure can lead to catastrophic failures and costly downtime.
Common Problems with Electric Changeover Valves for CO2 or Nitrogen
Electric gas cylinder switchover valves for CO2 or nitrogen are an effective alternative to manual changeover systems. However, they do still come with several drawbacks. You must connect an electrical power source or an external battery for proper operation. Without a power source of some kind, electric CO2 switchover valves or nitrogen changeovers will not be able to function. Additionally, electric changeover systems are more complex than their non-electric counterparts. Due to the number of components in the valve, maintenance and repair can be expensive, ultimately requiring you to purchase new equipment. They also wear out quicker than non-electric valves and must be replaced regularly to maintain optimal operations, raising overall costs.
Choose a Non-Electric Switchover Valve for Your Gas System
A non-electric changeover system removes all these issues and delivers high-quality, reliable gas control for any application. They also come with a variety of other benefits and operational capacities, such as:
No need for an electrical power source or battery
No worry about loss of power or service interruption due to electrical shortages
Less complex design means less room for error and malfunctioning
No danger of electric shock during installation or operation
Less required maintenance
Lower upfront and operational costs
The Eliminator Automatic Non-Electric Gas Cylinder Changeover System
One example of a highly efficient non-electric gas cylinder switchover valve is the Eliminator system from Assurance Valve. Our system works hard so you don't have to, ensuring that your CO2 and nitrogen levels stay consistent and constantly flowing despite any power outages or other disruptions. Other advantages to the Eliminator gas changeover valve include:
Efficiently utilizes all available CO2 or nitrogen in cylinders
Standard system options include 2, 4, 6, or 8-cylinder setups
Unlimited configurations available for complete customizability
20-year warranty to guarantee long-lasting excellence
Contact Assurance Valve Systems Today
Interested in learning more about how the Eliminator non-electric gas switchover valve can take your CO
2
or nitrogen management to the next level? The expert team at Assurance Valve Systems is ready to help you create a non-electric changeover system solution tailored to your needs.
Contact us
or
request a quote
today to get started.