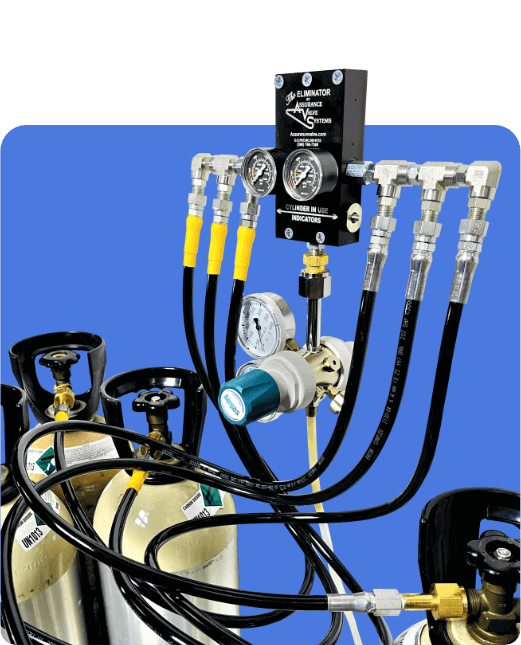 Manual vs. Automatic Changeover Valves
May 17th, 2022
Applications such as microbreweries, grow tents, and others require a continuous feed of CO2 gas to operate efficiently and have high-quality, profitable outputs. Gas changeover valves are a vital part of your CO2 system and are designed to keep your gas flow consistent. CO2 gas changeover valves work by regulating the amount of gas entering your system during all hours of the day, delivering gas with minimal disruptions.
The Differences Between Manual CO2 Systems & Automatic Changeover Switches
Two main configurations are available for CO2 changeover valves: manual or automatic. Understanding the difference between these options is essential to selecting the best changeover switch for your CO2 system.
Manual CO2 Gas Changeover
Of the two options, manual CO2 gas switches feature a lower start-up cost and are slightly more straightforward to maintain than their automatic counterparts. They are the classic answer to providing CO2 gas to any setting and are found throughout a variety of industries. Two types of manual changeovers are available: single-tank systems and multi-tank systems. Multi-tank systems feature a manual switch to change CO2 tanks.
In a single-tank system, someone must manually remove the empty canister and replace it with a new one when CO2 is depleted, leading to a complete shut down as the tank is changed and causing a loss in production. To ensure continuous operation in a multi-tank manual system, an employee must manually switch between the tanks when CO2 levels become low or risk a loss of production. This risk increases when no one is present to connect a new canister during off-hours, such as on nights and weekends when workers are not present, in busy times when workers are otherwise occupied, or if workers are not adequately trained in handling CO2 gas. If your application requires frequent cylinder replacement or 24/7 CO2 gas exposure, manual systems can quickly use more of your valuable time and resources than anticipated.
Automatic Changeover Valves
Automatic changeover switches are a unique solution and modernized version of the manual changeover system with a crucial distinction compared to their manual counterparts. Instead of a worker needing to watch the system and switching tanks before CO2 gas canisters are emptied, the system automatically switches to a new cylinder without human involvement. Your system can run independently during the day, night, weekends, or holidays without requiring you or an employee to be present.
While automatic changeover systems typically require a marginally higher investment upfront, they are significantly more cost-effective over time due to their lower labor demands. Best of all, automatic CO2 gas valves are safer to use. As cylinders are switched automatically, you minimize the risk of CO2 exposure, lower the likelihood of workplace accidents, and allow your employees to spend more time interacting with customers or completing important tasks.
Which CO2 Gas Changeover System Should I Choose?
While manual CO2 gas switches are the more traditional optional and have a lower upfront cost, automatic changeover systems outperform their manual counterparts in almost every CO2 gas system. Take, for example, Assurance Valve's Eliminator automatic CO2 gas changeover system. Easy to set up and easier to use, this automatic switchover valve is non-electric and features many other advantages over manual CO2 gas systems:
Utilizes all CO2 gas in the canister for less waste
Streamlines workflows during busy hours
Runs on nights and weekends with no supervision needed
Unlimited configurations for maximum customization
And more!
Contact Assurance Valve for Automatic CO2 Switch Solutions!
Do you want to learn more about the Eliminator system or how automatic CO
2
changeover valves can take your
restaurant
,
brewery
,
grow room
, or
other CO2 operation
to the next level?
Contact Assurance Valve today
! Our expert team can answer any questions to help you establish more efficient, safer processes.