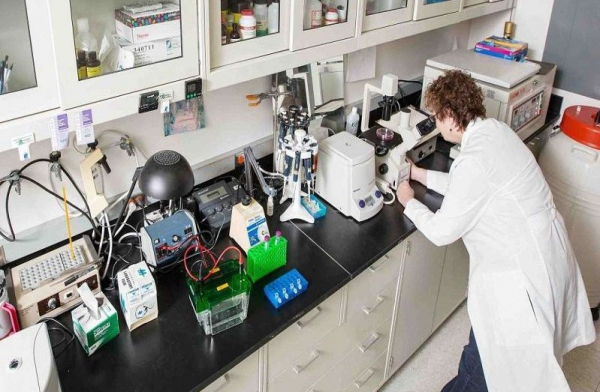 How a Reliable Gas Supply Improves Accuracy in Experiments & Lab Testing
Laboratory experiments and testing require stable conditions to produce accurate and repeatable results. Automatic gas switchover valves can help. Automatic gas cylinder switchovers are devices that automatically switch to a secondary gas cylinder once the primary cylinder has been depleted. They work with nitrogen, oxygen, Co2, and other laboratory gases, depending on the needs of your operation. These valves are a low-cost, low-labor, and low-maintenance option to include in any lab design with the goal of creating a more consistent and efficient gas delivery system.
Accomplish Precision Processes with an Automatic Gas Delivery System
Automatic gas cylinder switchovers provide many benefits to laboratory experiments, testing, and other processes. From keeping contaminants from interfering with precision applications to producing reliable results with lower labor demands, automatic switchovers are your best laboratory solution.
Piping Consistent Laboratory Gas Produce More Accurate Results
Successful laboratory testing or experimentation requires an adequately controlled environment. Maintaining consistent gas flow is a critical aspect of that control. Interrupted or delayed gas distribution can lead to inaccurate results, contaminated or damaged equipment, and more. By using an automatic gas switchover valve, you can stop these consequences from occurring while enhancing your workflow. Other ways that automatic switchovers maximize your lab design's efficiency include:
Removing the opportunity for human error during cylinder switchovers
Simple designs mean less time and resources spent on troubleshooting or maintenance
Automatic gas switchovers help distribute steady gas flows during unstaffed hours
And more!
Increased Cleanliness in Your Laboratory
Contaminants or particulates in your gas delivery system can significantly distort results in precision laboratory processes. Automatic gas delivery systems function without an operator, minimizing opportunities for contaminants to enter your system.
Automatic Laboratory Gas Delivery Systems are Safer for Lab Employees
Compared to manual gas cylinder switchover systems, automatic gas cylinder switchovers for laboratories pose a lower rate of risk for employees. As the automatic laboratory gas delivery systems switches depleted cylinders out for the new cylinder without oversight, employees are not subjected to possible leaks or concentrated gas exposure.
How to Incorporate an Automatic Gas Cylinder Switchover into Your Lab Design
Automatic gas cylinder switchover valves—such as Assurance Valve's Eliminator system—are a great solution for providing consistent gas regulation in laboratories. The simple design and easy operations make incorporating this gas delivery system into your lab design simple and straightforward. As you complete your lab design and decide where to place your gas delivery system, keep these considerations in mind:
Place your laboratory gas delivery system as close to your work as possible to avoid gas degradation
Ensure all fittings, pressure regulators, and other gas delivery components are appropriate for your application
Provide enough storage space for your automatic gas cylinder switchover system, depleted cylinders, and full cylinders
Use PTFE tape over paste for pipe connections to avoid hydrocarbon contamination
Assurance Valve Can Help Establish a Reliable Laboratory Gas Delivery System
When you're ready to incorporate a safe and reliable automatic gas switchover valve into your laboratory operations, Assurance Valve is here to help. Our Eliminator system is designed to be fully customizable, simple to install, and provide reliable results for any setting. The Eliminator can even be custom built to work with building or bulk gas supply and give you peace of mind in case of power outage. We believe in the Eliminator so much that every switchover valve comes with a 20-year warranty to provide your complete satisfaction.
Contact us
to learn more about how we can support your laboratory operations and experiments.
Request a quote
to get started.